Halle Berry 'doubts having another child'
Saturday, May 1 2010, 20:25 BST
By Marcell Minaya, Entertainment Reporter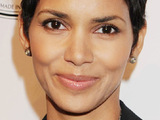 Rex Features
Halle Berry has admitted that she doubts she will have another child.
The Oscar winner, who recently announced her split from partner Gabriel Aubry, has revealed while attending the DKMS Annual Gala, an organisation that recruits bone marrow donors for leukemia patients, that she doesn't see herself having more children in the future.
Speaking to In Touch Weekly, the 43-year-old said: "Being here at an event like this, I'm just reminded how blessed I am that I have a healthy little girl."
When asked if she would like more children, she added: "If God says so. I don't think he's going to say so though!"
Berry and Aubry have a 2-year-old daughter named Nahla Ariela.