Halle Berry feels her daughter is black
Published: Tuesday, Feb 8, 2011, 12:35 IST
Place: London | Agency: ANI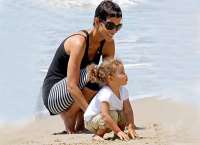 Halle Berry with daughter Nahla
Halle Berry feels that her two-year-old daughter Nahla, who is at the centre of a bitter custody battle, is black.
Her comment emerged a week after the fight between Berry and her ex-boyfriend Gabriel Aubry over their daughter turned ugly.
"I feel like she's black. I'm black and I'm her mother and I believe in the one-drop theory," the Daily Mail quoted her as telling Ebony magazine.
When asked to define her daughter's race, Berry - who has both white and African-American heritage, said, "What I think is that that's something she's going to have to decide.
"I'm not going to put a label on it. I had to decide for myself and that's what she's going to have to decide - how she identifies herself in the world.
"And I think, largely, that will be based on how the world identifies her. That's how I identified myself.
"But I feel like she's black," she added.